ARB/Princeton Ballet School To Move To New Brunswick Cultural Center in 2019
(NEW BRUNSWICK, NJ) — American Repertory Ballet/Princeton Ballet School plans to be a resident member of a new, state-of-the-art performing arts complex in downtown New Brunswick. The building, which will be known as the New Brunswick Cultural Center, is slated to open in the fall of 2019. ARB operations included in the new facility will be administrative offices, rehearsal space for the performing company, and two studio spaces for its acclaimed DANCE POWER program and an expanded New Brunswick presence of the Ballet School. (The Ballet School will maintain its Princeton and Cranbury studio operations.)
Interim offices and studios will relocate to 80 Albany Street (the organization's prior headquarters) while the two-and-a-half-year project is completed.
"American Repertory Ballet has long been committed to the New Brunswick community," said Charles Metcalf, Chair, Board of Trustees. "With the exciting fruition of the long awaited arts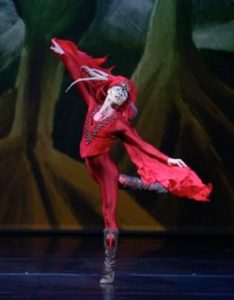 center, we will finally have a true home as New Brunswick's resident ballet company. The new facility will also permit us to expand the New Brunswick presence of Princeton Ballet School, and better serve our acclaimed DANCE POWER program as it enters its 32nd year in New Brunswick."
The project is being led by the City of New Brunswick, the New Brunswick Development Corporation (DEVCO), Middlesex County and several additional agencies and organizations. Collectively, they will fund the construction of the new multi-purpose building where the Crossroads Building and George Street Playhouse currently reside. Demolition of those buildings is scheduled for May 2016.
Details of the complex itself include two stages: one an intimate-sized space and the other larger, capable of seating 475 people. This bigger space is complete with an orchestra pit and a larger, expanded back stage that will allow for a wide range of productions. Additional amenities include an in-lobby bar, elevators to the balcony level and much more.
By early March 2017, American Repertory Ballet/Princeton Ballet School will have relocated to its former address at 80 Albany Street in downtown New Brunswick while the new facility is constructed; it is just a few short blocks from its current space at 7 Livingston Ave. In order to facilitate a quick move, the administrative offices will be closed March 2 and 3. They will reopen for business on March 6. All Princeton Ballet School and DANCE POWER classes during this period will be held at 7 Livingston Ave. through Sunday, March 12. Classes will be held at 80 Albany Street beginning Monday, March 13; all teachers and class times remain the same.
Given the estimated completion date, American Repertory Ballet is planning to open its 2019-2020 season in the new space. "American Repertory Ballet's mission to bring the best of classical and contemporary dance to audiences throughout New Jersey take a giant leap forward with our partnership with the New Brunswick Performing Arts Center," said Douglas Martin, ARB's Artistic Director​. "Together with George Street Playhouse, Rutgers University and the Middlesex County Cultural Commission, this performing arts center promises to redefine New Brunswick as center for arts and culture in New Jersey. It has been our dream to have a permanent home in New Brunswick for more than 30 years and ARB is both thrilled and honored that this day has finally arrived."
The two dance studios will allow Princeton Ballet School and DANCE POWER operations to expand not only in New Brunswick but into surrounding communities. "I am very excited about building our presence in New Brunswick with the new performing arts center," said Pamela Levy, Princeton Ballet School Director. "By having a permanent home in New Brunswick we will be able to nurture our DANCE POWER program as well as our school, and provide world-class dance instruction for many students throughout Middlesex County."
The arts development project is being hailed as transformative, not only for American Repertory Ballet/Princeton Ballet School, but the entire New Brunswick community. "We could not be more excited about this project," said Metcalf. "Together, with our partners, patrons and performers, American Repertory Ballet/Princeton Ballet School will continue to be the leading ballet organization in New Jersey and use this move and expansion as a catalyst for continued growth."
For more information about American Repertory Ballet and Princeton Ballet School please visit: www.arballet.org
Montclair State University
Department of Theatre and Dance 2017 Series
Theatre and Dance Series is the main production season of the Department of Theatre and Dance, consisting of five to seven theatrical productions and three dance concerts annually.  Works to be performed are specifically chosen to expose students to the broad spectrum of dramatic and choreographic literature, including timeless classics and contemporary genres. Policies for non-traditional casting ensure equal opportunity for students to explore diverse roles and stretch themselves artistically. Each project is directed and/or choreographed by resident or guest artist directors and choreographers and performed by the Department's theatre and dance majors.
Upcoming Season Schedule
---
Hearts of Men
Sat   Sept 10 8pm
Sun  Sept 11 2pm
Location: Memorial Auditorium
Hearts of Men is a two-week inter-generational movement intensive for men of all ages and backgrounds. Director Fredrick Earl Mosley creates a community where men come together to share stories, and ultimately perform these newly created works. Young men are mentored by elders and elders are rejuvenated by the young men. The culminating performance is the product of the two intensive weeks where the participants brought everything they had and left it on the dance floor.
---
New Works Reading
Part of the New Works Initiative (NWI)
Location: New York City location (tba)
---
Aida
Wed    Oct 19 7:30pm
Thurs  Oct 20 7:30pm
Fri       Oct 21 7:30pm
Sat      Oct 22 2pm, 8pm
Sun     Oct 23 2pm
Location: Memorial Auditorium
Directed by Gary John La Rosa
Aida tells the story of star-crossed lovers bound by family and cultural expectations in Egypt during the time of the great pharaohs. Based on the opera by Giuseppe Verdi, Elton John and Time Rice's Aida uses rousing rock numbers and heart-wrenching ballads bring the ill-fated lovers into a new era.
---
Iphigenia at Aulis
Thu Nov 3 7:30pm
Fri   Nov 4 7:30pm
Sat  Nov 5 2pm, 8pm
Sun Nov 6 2pm
Location: Alexander Kasser Theater
Play by Euripdes, translated by Don Taylor, and includes other adapted text
Directed by Heather Benton
A nation on the brink of war; a family torn apart; an unspeakable act of violence: this ancient Greek tragedy resonates with the immediacy of a Google newsfeed. Trapped with the Greek troops on the shores of Aulis, Agamemnon faces an impossible choice: sacrifice his own daughter, Iphigenia, to appease the gods, or remain beached. In desperation he summons wife and daughter for a wedding. When the truth is revealed, mother and lover fight to save Iphigenia from her father, the insatiable Greek army, and herself.
---
Works-A-Foot 
Thu Nov 17 7:30pm
Fri   Nov 18 7:30pm
Sat  Nov 19 2pm, 8pm
Sun Nov 20 2pm
Location: Memorial Auditorium
The star-studded repertory of the first concert of the season will feature works by guest choreographers and MSU faculty.  The spiritual New Second Line by 2016 Guggenheim Fellowship recipient Camille Brown was inspired by the cataclysm of Hurricane Katrina. Polka by Mark Morris has been acclaimed as "a tribal celebration danced around a metaphorical campfire." The program will be completed with works by MSU dance faculty members Jessica DiMauro, Kathleen Kelley, Earl Mosley, Maxine Steinman and Christian von Howard.
---
Jon
Thu  Dec 1
Fri    Dec 2
Sat   Dec 3 
Sun  Dec 4
The Department of Theatre and Dance Studio Series allows students and faculty to study and present theatrical stagings of work that is freed from the constraints and cost of a fully produced event. The Studio Series is intended to be a means for producing performance work quickly and simply, providing a laboratory for the exploration of theatrical performances, emphasizing acting as an art form. These performances are free to the students and public.
Based on the 2003 short story by George Saunders, adapted by Seth Bockley
Directed by Debbie Saivetz
A futuristic fable about teenage love in a corporate universe where television commercials replace life experiences. Adapted from the innovative story by MacArthur "Genius" Fellowship awardee George Saunders, Jon invites the audience into a multi-media test-marketing laboratory, and unfolds a surreal and strangely moving coming-of-age story.
---
The 25th Annual Putnam County Spelling Bee
Wed   Dec 7  7:30pm
Thurs Dec 8  7:30pm 
Fri      Dec 9  7:30pm
Sat     Dec 10 2pm, 8pm
Sun    Dec 11 2pm
Location: L. Howard Fox Theatre
Conceived by Rebecca Feldman, with music and lyrics by William Finn, book by Rachel Sheinkin, and additional material by Jay Reiss.
Directed by Robin Levine
The 25th Annual Putnam County Spelling Bee is the story of how six young people in the throes of puberty, overseen by grown-ups who barely managed to escape childhood themselves, learn that winning isn't everything and that losing doesn't necessarily make you a loser. This hilarious tale of overachiever's' angst chronicles the experience of six adolescent outsiders vying for the spelling championship of a lifetime
---
The Dirty 9
Location: tbd
---
Senior Project Dance Concert
Spring Senior Project
Friday, May 5 7:30PM
Saturday, May 6 2PM, 7:30PM
Sunday, May 7 18 2PM
Location: Life Hall – Studio 1210
Artistic Director: Christian von Howard
The Senior Project Dance Concert serves as a capstone experience in both performance and choreography for senior BFA and BA Dance majors. This dance series is conceived, produced and marketed under supervision of the artistic director and dance faculty during the senior year by student choreographers.
---
Songs for a New World
Thu Feb 2
Fri   Feb 3
Sat  Feb 4
Location: Leshowitz Theatre
Written and composed by Jason Robert Brown
Songs for a New World is, according to composer Jason Robert Brown, "about one moment. It's about hitting the wall and having to make a choice, or take a stand, or turn around and go back." With a rousing score that blends elements of pop, gospel and jazz, featuring tight harmonies and darling vocals, Songs for a New World transports its audience from the deck of a Spanish sailing ship bound for a new land, to the ledge of a New York penthouse.
---
West Side Story
Sat   Feb 25 
Sun  Feb 26 
Wed Mar 1
Thu  Mar 2
Fri    Mar 3
Location: Alexander Kasser Theater
Directed by Mark Hardy
Book by Arthur Laurents, music by Leonard Bernstein, and lyrics by Stephen Sondheim.
---
New Works Production
Part of the New Works Initiative (NWI)
Thu Mar 23
Fri   Mar 24
Sat  Mar 25
Sun Mar 26
Location: L. Howard Fox Theatre
---
DanceWorks
Artistic Director Lori Katterhenry
Thu Apr 6
Fri   Apr 7
Sat  Apr 8
Sun Apr 9
Location: Alexander Kasser Theater
---
Music Theatre Studio Production TBD
Thu Apr 6
Fri   Apr 7
Sat  Apr 8
Location: Studio Series
---
Punk Rock
Thu Apr 6
Fri   Apr 7
Sat  Apr 8
Location: L. Howard Fox Theatre
A play by Simon Stephens
Directed by Susan Kerner
---
Dance Collage
Wed Apr 26
Thu  Apr 27
Fri    Apr 28
Sat   Apr 29
Sun  Apr 30
Location: Memorial Auditorium
---
BFA Studio Production TBD
Thu  Apr 27
Fri    Apr 28
Sat   Apr 29
Sun  Apr 30
Location: Studio Series
Director Carole Healy